This time around i've been wondering a lot what if one day i become a mother?
I even imagining what if one day I've come back from class and there is a baby on my bed. OMG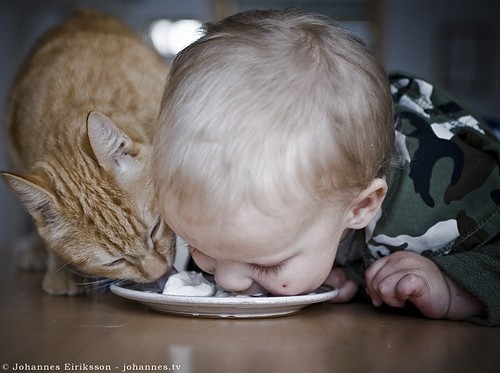 Can I still behave as usual, the bujang version of me?
I bet not.
Responsibility changes people.
thanks goodness!
I remember the conversation i've had with mum last night, how im bit different when abi was with me, and when he is not.
And also the phrases people usually utter when it comes to lazy anak dara "kahwinkan dia aja, taulah dia rajin lepas tu." LOL
Ok back to main idea.
i've read Dr farnaza blog, my lecturer in PCM posting, and she portrayed parenthood in a very good and realistic way. I do say, WONDERFUL.
How kids make parent lose temper (
aha! sorry ma and abah
), and how to cope with them. How they are learning and their perception towards surrounding..How parents might imposed their beliefs/worries in their kids resulting in insecurity. In many ways i was touched to deep. There are ups and downs in everything, even in parenting.
At one time she wrote about after prayer she'll sit with her son, and ask him to recite short surah from the quran, and she discussed the meaning of the surah with her son. I was amazed....
And ashamed of myself.
If i dont have the knowledge of tajwid and little bit about hadith and quran,regarding its meaning, what is the story behind it, all the basic stuffs, how im gonna teach my kids?
then i have to depend to my spouse. What if both of us are noobs? Luckily, there is never too late or too early in learning something.
unless you have deadline, EXAM
,
wait, can death be a deadline too? T_T
ok let me end things here.
p/s -cuteness!